Welcome to Hogwash!

Greetings,

If this is the first edition of Hogwash! you've received it's because someone you know thought that you would like to receive it and perhaps pass it on to a friend.

If you enjoy this E-newsletter and know others who you think would like to be on our list or receive a copy by mail, please let us know at info@rosigardner.com

The highest compliment we can receive is a referral from a friend. Although we've been in business together for more than twelve years, have more than 50 years of combined legal experience experience, we are never too busy to help those you refer to us: your family, friends, neighbors, and co-workers.

Another Arrow in the Quiver of a Property Owner Facing Foreclosure

Michigan's Senate is poised to enact legislation, ostensibly pushed by several banks, designed to give banks more power to foreclose mortgages as reported in the Traverse City Record Eagle on June 3.

As a counter measure, if the facts warrant it, a property owner may now obtain some degree of relief using the Federal RICO statute, the Racketeer Influenced Corrupt Organization Act, according to the U.S. Court of Appeals for the Sixth Circuit.

So if you thought RICO was just used in cases involving organized crime, think again. Here's how this act may be applied in foreclosure proceedings.

At the height of the housing bubble, many properties were refinanced predicated upon optimistic, if not actually inflated, appraisals. In the case reported by the Record Eagle, a property owner sought to improve his property with a home equity loan. The bank involved required an appraisal and obtained one from an entity now alleged to be known for providing fraudulent appraisals.

The property owner was offered, and agreed to, a $425,000 loan, based upon a $500,000 appraisal of his home. When faced with subsequent payments that he could not make, he learned that the true value of his home was only $375,000.

The Court of Appeals reasoned that elements of the homeowner claims that

the homeowner had been led to believe that he had substantial equity in his home, and that

using that information the mortgage issuer had pushed the home owner into a mortgage that it knew, or should have known, that he could not afford. The homeowner's claim that this was a scheme by the mortgage issuer to create an illusion of equity with a view to convincing him to decide to refinance under terms he could not afford.

The court decided this was a sufficient basis justifying a complaint based upon the RICO statute which, if successful could result in recovery of both treble damages and attorney fees.

The Supreme Court may be asked to review the Sixth Circuit Court decision. However, until it does so, the court's reasoning may give any homeowner who finds him or herself on the wrong side of a mortgage foreclosure proceeding some reason for hope. He or she should confer with experienced legal counsel to determine if the specific facts warrant the application of RICO as one additional avenue to possibly avoid losing the home or other property through foreclosure.

Do you know what you have? And do you have it insured properly?




Many people know what assets they have, but don't know much about the insurance they have to protect those assets. Ask yourself the following questions:

Does my insurance policy include replacement cost coverage?

If it does, what is the limit of my replacement cost coverage?

Will that amount actually replace my building? Is the coverage enough to also replace the contents of the building if it burns to the ground tonight?

Recently a commercial property owner found himself in the Court of Appeals for a second time, and he's probably headed for a third trial in the case. His commercial building had burned, along with the contents. The owner's insurance agent had reportedly told him "You're covered" and said that he (the agent) had gotten, or would obtain, an appraisal. No appraisal was ever done. And, the replacement cost of the building was much more than the limit of the coverage provided under the policy, at least partially because no appraisal had established the value.

Most people (unless they are afflicted with chronic insomnia) have never read their insurance policies. But, you should review your policies, at least the declarations page, with your insurance agent, to be sure that you understand what coverage you have and to what extent your assets are protected. You do not want to find yourself in a legal battle with your insurance company if it is avoidable.

It May Be Legal But It's Still Stupid

Michiganders, we are certain, are pleased to know that our legislature in 2010 joined 14 other states including the District of Columbia in making texting and emailing while driving illegal, subjecting a wrongdoer to as much as a $200 ticket. However, dialing and talking on the phone (without a headset) is still legal in Michigan. But that fact alone will not give comfort to one who does not pay attention. In the right set of circumstances, the otherwise legal act of talking on a cell phone while driving can support a criminal conviction for negligent homicide when that conduct leads to a fatal accident as one recent case shows.

It happened at about dusk. A young driver struck and killed a pedestrian in a well-lit, brightly painted crosswalk marked with a yellow and black pedestrian crossing sign and promptly called the police. The driver denied ever seeing that pedestrian and also denied that she had been on the phone at the time of the collision. The scene revealed that prior to the impact, the driver had not applied the brakes, confirming that the driver had failed to see the pedestrian.

Unfortunately for the driver, the contention that she had not been on her cell phone prior to the incident was refuted by her own cell phone records. They showed that she had placed as call to a friend and hung up only 90 seconds before she called the police. She was convicted of Negligent Homicide, which in Michigan is punishable by up to two years in prison.

We don t need to find a moral in any of this. Simply turn the phone off and leave it off. Talking on your phone while driving may be legal but it's still stupid.

Be Sure, Be Very Sure . . .




. . . that your final divorce agreement covers everything and allocates the risks and values of assets equitably. The Michigan Court of Appeals very recently enforced and upheld a divorce settlement, even though unforeseen circumstances (and some third-party fraud) worked a hardship on one of the spouses.

In Kaftan v Kaftan (decided April 25, 2013), the spouses agreed that the husband would keep the real estate holdings, and make payments to the wife, totalling more than $7.7 million. As it turns out, the real estate was incorrectly valued (in part due to third-party fraud) and it had an actual value of $5 million value. Under the terms of the agreement, the husband was forced to continue the payment to the wife, even though by the total of payments, she was receiving much more than 50% of the actual value of the total marital estate. That responsibility was reaffirmed by the recent Court of Appeals ruling.

Critical to this case is the fact that the divorce settlement agreement did not list values for the assets in the marital estate. The settlement agreement also reiterated several times that the document could not be modified. The result of the Court of Appeals ruling might have been different, if the agreement had said that the spouses intended an approximately equal division (albeit by payments over time), and provided that the agreement could be modified due to drastically changed or unforeseen circumstances. Of course, that lack of finality comes with its own set of problems.

A Michigan divorce settlement, whether decreed by a judge, or settled between the spouses, is final and binding, absent fraud (by one of the parties) or extreme circumstances that result in inequity.

Note: inequity, not inequality, might cause a court to modify a settlement. A divorce settlement will rarely be truly "equal" but that does not make it inequitable. Although a Michigan divorce court has the continuing jurisdiction and authority to modify a divorce division, they are extremely reluctant to do so, especially where it is an agreement, negotiated and agreed between the spouses.

Take Your Dog To Work Day – Friday June 21, 2013

Since 1999 dog lovers have been celebrating Take Your Dog to Work Day.

It's a day set aside by Pet Sitters International to recognize the bond between dogs and their owners.

At Rosi & Gardner that special bond is celebrated regularly. Gary's dog Koda routinely spends his day at the office helping greet clients and providing that special warm welcome that only a canine friend can provide.

From June 17th-21st Pet Sitters International is also celebrating Take Your Pet to Work week. Part of the focus of this entire celebration is to encourage pet adoptions. If you have room in your life for another pet, please visit the Cherryland Humane Society or contact A.C. Paw.

Summer officially begins on June 21. Here's a thought echoed by many of us when thinking about our version of a relaxing summer day…

A perfect summer day is when the sun is shining, the breeze is blowing,
the birds are singing, and the lawn mower is broken.
~ James Dent

You may have noticed, as we have, people making profound "quips" — humorous variations on profound quotes. Here are a few we hope you'll enjoy!

Do not walk behind me, for I may not lead. Do not walk ahead of me, for I may not follow. Do not walk beside me, either. Just leave me the hell alone.

It's always darkest before dawn. So if you're going to steal your neighbor's newspaper, that's the time to do it.

Before you criticize someone, you should walk a mile in their shoes. That way, when you criticize them, you're a mile away and you have their shoes.

Win a Hogwash! Coffee Mug

We'll send a Hogwash! coffee mug to the first 5 people who emails us the correct answer to this riddle.

The 22nd and the 24th presidents had the same parents but were not brothers. How is this possible?
Karen's At Home Cookin'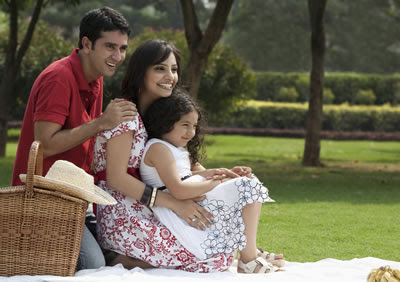 June Picnics
Picnics can get pretty extravagant these days but the best are pure spontaneity! Growing up in northern Michigan meant seizing the good weather moments – you had to move fast. When the sun came out, you biked to the beach as fast as you could. It could cloud over anytime and rain, or worse – turn cold. We frantically packed lunches, threw them in brown paper sacks, jumped into our flip flops and on to our bikes (dangerously – without helmets or sunscreen) and raced to the beach. My favorite childhood beach food: peanut butter and sand-jelly sandwiches. Sun warmed potato chips crawling with ants. Strawberry Kool Aid in Dixie cups. Saltines with Kraft cheese singles and mustard. The last thing, the very best, on the way home from the beach, a stop at the Dairy Queen for a butterscotch coated vanilla ice cream cone. Oh, those delicious memories!
Here are some of my new favorites for picnics in June. A little planning is ok when you're an adult. You can prepare most of this the night before your picnic. My best wishes to you all for a spontaneously fun-filled summer!
Sesame Ginger Noodles with Whitefish and Pistachios
Ingredients:
Thin spaghetti noodles
Full Circle Sesame Ginger Dressing
2 red peppers
Steamed whitefish fillet
parsley/cilantro
a sprinkle of hot pepper flakes
Pistachios
Mix the noodles with sauce, chopped peppers, white fish and hot pepper flakes. Add the pistachios just before serving. Top with fresh herbs.
Asparagus Wraps
Spread your favorite wrap (I like Mission burrito shells) with cream cheese, top with asparagus spears (grilled or raw), add your favorite condiment and roll up. Top with sliced tomatoes and secure with toothpicks.
Spinach Strawberry Salad with Black Currant Balsamic Vinegar and Poppy Seed
Mix 1 cup olive or sunflower oil, ½ c black currant balsamic vinegar, 1 tbsp poppy seed, salt and pepper. Drizzle on fresh spinach leaves, sliced strawberries, chopped red onion and goat cheese.
Pink Arnold Palmers
1 part strong black tea
1 part lemonade
Sliced fresh strawberries and lemons
Side dishes and dessert:
Sweet potato chips
Pistachios, fresh strawberries
Salted radishes
Store-bought lemon creme and windmill cookies
Good news: Native fish are returning to Lake Huron. Look for smoked chubs this summer sold on the northeast side of the state.
We have been involved in a number of Estate administrations recently. Would you like to know how smoothly (or not) your Estate might go, if something happened to you

tomorrow

?

Call us and mention this offer for a $50 review of your estate plan.

Offer Expires: June 30, 2013
Rosi & Gardner, P.C.
735 S. Garfield Avenue
Suite 202
Traverse City, Michigan 49686
Website
Gary Allen Gardner
Email Gary